An inspirational environment
Embracing Adelaide Botanic High School's value of community, students are supported and encouraged to connect with the arts in the immediate precinct and beyond through authentic learning design, enabling students to become skilled communicators through visual and performing arts.
The school facilities provide an inspirational environment for students to explore, imagine, express, collaborate, challenge, observe, critique, exhibit and perform. Whatever Arts pathway students decide to pursue, they will have a positive learning experience designed to engage and fulfil their creative aspirations.
Students in the Middle Years are nurtured through a connected and Arts discipline-based learning program. Whether they are diving deeper into their learning or exploring new talents through a wide and divergent range of disciplines in the Arts there is something for every learner to enjoy. Students have the opportunity to make choices for their learning throughout the year based on their most recent experiences, enabling them to fine tune and navigate an enjoyable Arts pathway.
By Years 10 and 11 students have a good understanding of the skills and talents they wish to further explore and develop within the Arts. They may choose to be a performer, exhibitor, curator, historian, printer, filmmaker, visual artist or festival producer; whatever their choice, the possibilities are endless.
Through the courses on offer in the Senior Years, students navigate an independent learning pathway through their chosen specialty exploring how this aspect of their skill set can prepare them for the future world they will live in. Whether students are developing a career pathway within the Arts industry or highly transferable skills to set them up for success in other career directions, they are exposed to the possibilities that the Arts can provide.
The Arts in the Middle Years
To understand how students studying the Arts in the Middle Years are prepared for success in their Senior Years and beyond, click on the link below to watch the video.
Watch Video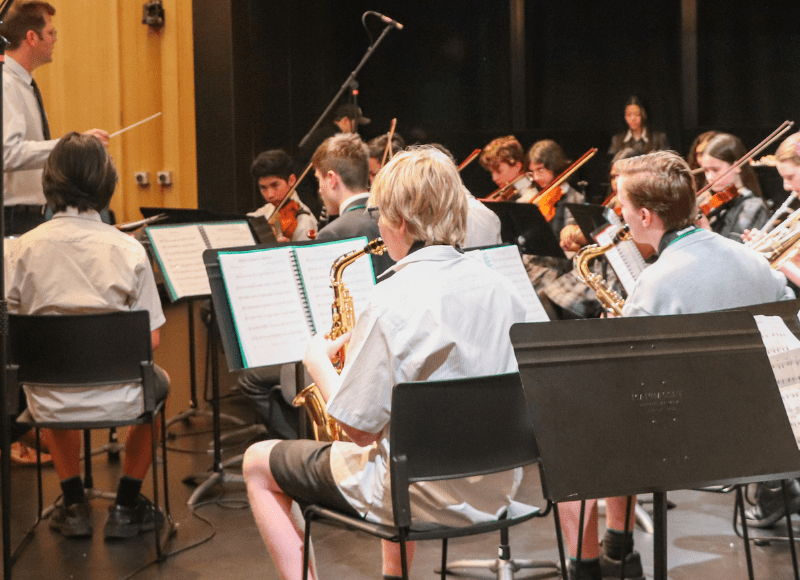 Music Intense at ABHS
Through the study of music, many valuable skills can be developed including discipline, the ability to think creatively, and how to work as a team, all of which can help build self-confidence. Students can take advantage of the many benefits of studying music by learning an instrument and joining the Music Intense Program from Year 7.
The Music Intense pathway is a practical course that provides a specialised curriculum focusing on practical techniques, ensemble playing and a high level of musicianship (theory concepts and composition). Music Intense is high achieving, inclusive and respectful, catering to both novice and experienced students.
To learn more about Music Intense watch the video linked above or use the Contact Us page to send an email requesting further information.