Creating a sense of identity
The Adelaide Botanic High School uniform reflects the contemporary nature of the school. It plays an important role in creating a sense of identity among students and the community whilst also supporting the safety and wellbeing of our students.
Uniform Fittings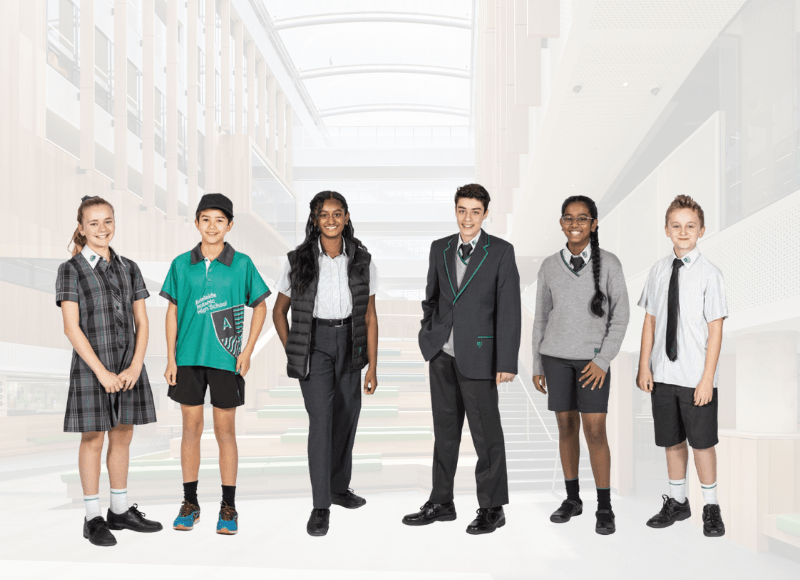 Uniform items
The range of proven uniform selections have been designed to allow students flexibility of choice in terms of what they wear in varying weather conditions, with no specified summer or winter items.
All items are available in unisex, boys' or girls' styles and sizings and may be worn as appropriate for weather conditions and personal needs.
UNIFORM BROCHURE
School dress (and skirt)
Length no more than 10cm above the knee
Sports uniform
For PE or sport activities only
Puffer vest
To be worn over a shirt or dress, not on its own
Jacket
Worn as an everyday item or with the tie and shirt tucked in for formal occasions
Jumper
To be worn over a shirt or dress, not on its own
Short/long sleeved shirt
To be worn with pants, shorts or skirt with or without a tie
School socks
Black or white with green band, calf-length
Pants (2 styles)
Tailored, charcoal with side pockets and logo
Shoes
All black, leather lace-up school shoes with a defined low heel or girls T-bar shoe
Shorts (2 styles)
Tailored, charcoal with side pockets and logo